The quintessential celebratory sip, the ultimate toast of good times, the taste of nights to remember, nothing sets the party agenda better than Champagne. Not just for New Years, weddings or anniversaries (though, on those occasions, it's definitely a must), we're listing five reasons to pop the bubbles, and the specific bottles to try.
Girls, it's so good to see you IRL
As soon as you can, get your besties together for a group hug and a night of much needed face-to-face conversation. Pre-COVID, this might not have felt like a big thing, but post-COVID, when restrictions have kept us apart for so long, there's no better occasion to pop a good bottle, so we're recommending Joseph Perrier Cuvee Royale Brut Champagne NV. With lively fine bubbles, a pale yellow colour (think Kate Hudson's dress in How to Lose a Guy in 10 Days) and fresh finish, this is dry but fruity style Champagne.
Congratulations friend, I'm so proud of you
A house has been bought, a degree (finally) finished, a baby has been kept alive and well for a whole year, you're proud of your pal's achievement, and want them to know it. Lanson Black Label Champagne is the bottle that says, "Nice one", but in a posh accent. It's a much-awarded top pick, and thought of as one of the best non-vintage Champagnes around, so even if the recipient isn't as into bubbles as you are, they'll appreciate the grandeur, and quite possibly be much more into Champagne after drinking it.
That was a big week, here's to us babe
One of the most romantic bottles of bubbles available (it's the French words written in cursive that does it), Nicholas Feuillatte Selection Brut NV Champagne France is a bottle for lovers.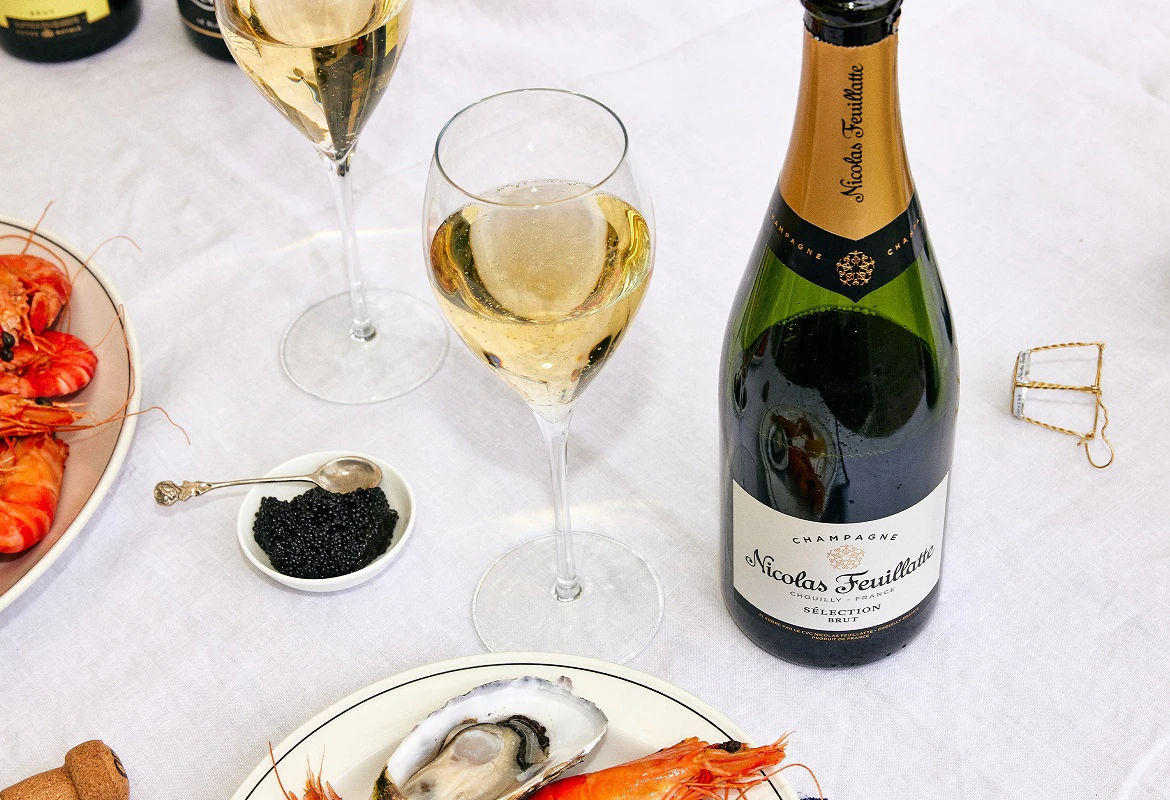 Even if the love language is less long stemmed roses and yacht dates, and more paid the rego, met work deadlines, got the kids fed and to bed, and managed to carve out an hour for yourselves. Often the quiet achievements are the ones that mean the most, and they deserve a toast .
Happy birthday Mum (in-law-to-be-I-hope)
Sometimes a bottle needs to impress, show you're invested, and frankly, get someone on-side. Besserat de Bellefon Bleu Brut is the bottle to help you out.
It looks the business, has a gorgeous bouquet of honeysuckle, hazelnuts, mirabelle plum and a distinctive chardonnay quality that offers a glimpse of the family gene. It is, in a word, "yum". The kind of thing to win over any matriarch.
Family holidays are the best
Sun, sand, surf, and a great holiday house that fits all the family is top of most people's wish list for this coming summer. The goal is to spend so much time together that you actually start to miss the restrictions that were keeping you apart. It's customary of a summer holiday that one night is seafood night: oysters, prawns, fish and some hot chips from the local.
Duperrey Champagne Brut Premier Cru is perfect for pairing with seafood because of its honeyed lemony bready flavour. A fan, and now family, favourite.